The National Sequestration Education Center (NSEC) kicked off a global workshop on carbon capture and storage (CCS) today in Decatur, Illinois.
The two-day "International Workshop on Public Education, Training and Community Outreach for Carbon Capture, Utilization, and Storage," which is sponsored in part by the Office of Fossil Energy's National Energy Technology Laboratory (NETL), will feature cutting edge tools and techniques for public education, training and outreach on CCS. 
CCS is the process of capturing and storing or re-using carbon dioxide (CO2) from coal-fired power plants and industrial sources.  It's an important part of the president's plan to address climate change and secure America's energy future.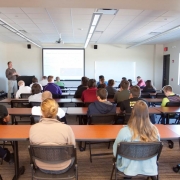 Over the next two days, attendees will learn more about CCS through presentations by experts from NETL and other U.S. and international organizations; examine effective methods for public education and outreach; and get a first-hand look at a nearby CCS project.  By the end of the workshop, participants – including teachers – will have a better understanding of CCS, and they'll have the tools they need to discuss it in the classroom and other public settings.    
The 15,000 square-foot sustainably designed NSEC, located on the campus of Richland Community College (RCC) in Decatur, offers the nation's first associate degree programs in carbon capture, utilization and storage.  The Center also provides community and regional outreach on CCS through its state-of-the-art interactive visitor's center.
The NSEC is part of a larger Department of Energy (DOE)-sponsored Industrial Carbon Capture and Storage (ICCS) project in Decatur.  Led by Archer Daniels Midland (ADM) in a partnership that includes Schlumberger Carbon Services, University of Illinois-Illinois State Geological Survey and RCC, the project will capture 1 million metric tons of CO2 per year from ADM's ethanol plant in Decatur.  The CO2 will be transported via a mile-long pipeline, then injected and safely stored deep underground into the Mt. Simon Sandstone saline reservoir – which has an estimated CO2 storage capacity of as much as 151 billion metric tons. 
This $208 million ICCS project is cost-shared by DOE with more than $141 million in funds from the 2009 Recovery Act.  It's expected to begin CO2 injection operations in early 2015, and it's making progress toward that goal.  On May 8, a 100-megawatt electrical substation was dedicated in Decatur.  The Hans Electrical Substation – named in honor of the late electrical engineer, Hans Peter Gut – will supply power to the plant's compressors and will begin operation in the fall.
The Decatur ICCS project is one of eight large-scale CCS operations supported by DOE and managed by NETL.  The difference is that the goal of the Decatur project is not only to capture and store CO2 – through the NSEC it's also training the next generation of experts and, as today's workshop shows, getting the word out about CCS.