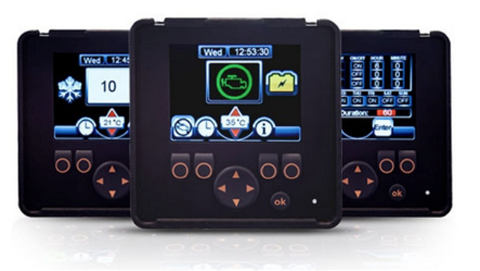 The IMS controller is the "brain" of the system. Over four years of customer feedback it has evolved into Version 3.0x. It receives data from the vehicle through the Controller Area Network (CAN) as well as the sensors within the Idle Mitigation System. It processes information on engine revolutions, transmission status, battery voltage, coolant temperature, engine hours, interior and exterior climate, and hood position. It takes all of this information and decides when the vehicle can be shut down to avoid idle or when it needs to be running to meet the criteria set in the program as well as by the operator's input.
The screen shows the status of the vehicle and acts as the interface between the operator and the controller. The screen displays the status of the vehicle and indicates to the operator when a change is going to take place. The screen is also where the operator sets the desired climate within the cab and accesses options within the system if so equipped. The screen is accessible only when the vehicle is in park or neutral, making it a hands-free device.
The Anti-Theft feature allows the operator to, with a simple push of a button, leave the vehicle secured with keys in hand. The controller will continue to monitor the vehicle. It will start the vehicle if it is needed to meet criteria set in program or the operator's input. Only the operator returning with the keys will be able to take the vehicle out of anti-theft mode.